Description
🔋

Fast & Accurate Car Battery Tester
Whether you are a car enthusiast or a professional technician, this is undoubtedly an excellent tester for you to check battery health and detect startup and charging system failures. CGSULIT has been committed to providing customers with more efficient and cost-effective products. BD715 uses a powerful
STM-32 chip
, which can provide you with
99.8% accurate data within 5s
. It's quick and accurate to know the situation of your battery!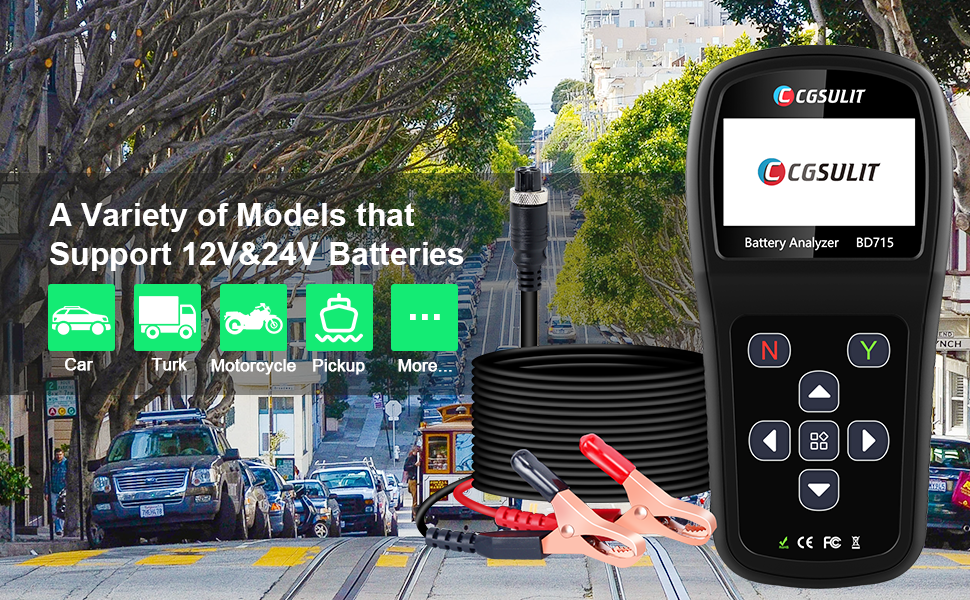 In-Vehicle

 & Out

-

of

-

Vehicle
BD715 car battery tester supports in-vehicle and out-of-vehicle testing. You can test directly in the car without removing the battery, or make sure that the battery is in normal condition before you install the battery, avoiding unnecessary installation and removal, which saves you a lot of time.
Clear Tips for Easy to Use
BD715 battery tester provides you with clear operating instructions at every step, such as "REV ENGINE WITH LOROS OFF" and so on, you no longer need to worry about not being used or being difficult to operate.

High-grade Copper Clamps and 6.8ft Wire
BD715 car battery analyzer is made of the best quality copper plating, and it does not emit light, heat, or spark, you don't need to worry about its safety. It is equipped with a 6.8ft cable wire, which is enough for you to operate on the driver's seat after connecting the battery.

Please Note: the red clamp is connected to the positive (+) terminal and the black clamp is connected to the negative (-)terminal.

Multiple Languages
5 Languages: English, Dutch, Spanish, German, French and more languages updateble.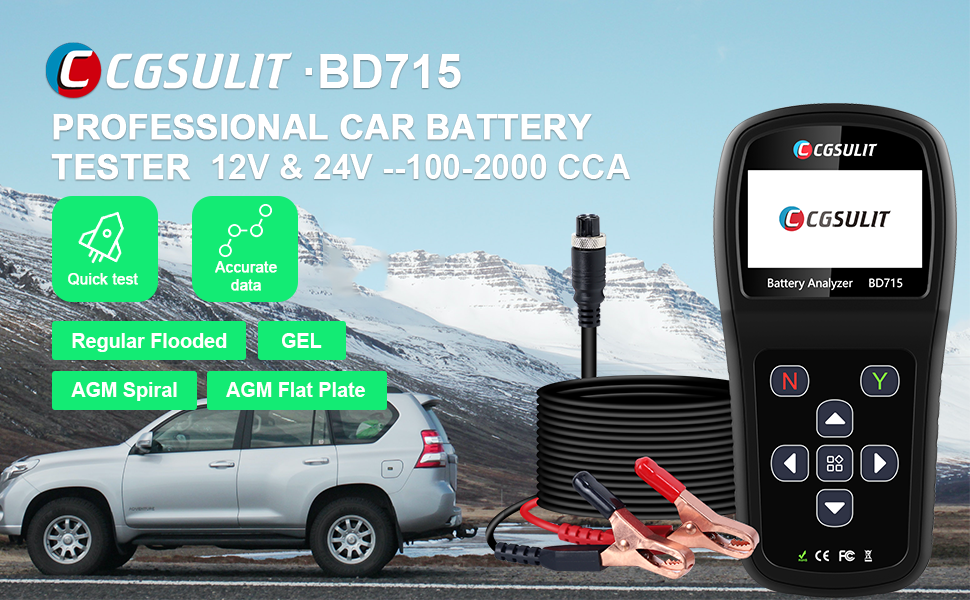 Good value battery diagnostic doctor
✅Works well on Cars or Heavy Trucks: 12V & 24V test batteries from rated from 100 to 2000CCA.
✅Suitable for Multiple Battery Types: Regular Flooded, AGM Flat Plate, AGM Spiral, and GEL.
✅Multiple Unit Systems: CCA, CA, MCA, JIS, DIN, IEC, EN, SAE.
✅Convenient Testing: support for in-vehicle and out-of-vehicle testing.
✅100% Accurate Data: provide you with accurate data and accurately analyze battery health.
✅Quick Test: it only takes 10 seconds to detect battery health.
✅Simple Operation: clear instructions for start-stop system detection steps, even if it is used for the first time, it can be operated quickly.

What can BD715 do for you?
BD715 Car Battery Tester Main Functions Include Battery Test, Cranking Test, and Charging System Test.

1. Battery Test - test battery voltage and battery cold start current.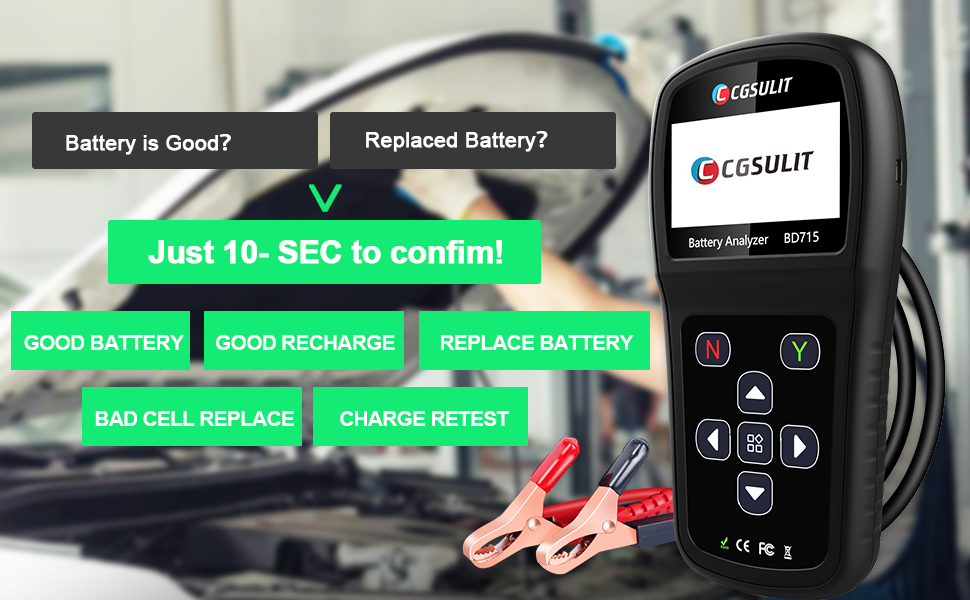 GOOD BATTERY - the battery is in a healthy condition.
GOOD RECHARGE - the battery is in good condition, but the current is low, please charge the battery fully.
CHARGE & RETEST - retest after fully charged. If the retest result is the same as the full charge, please replace the battery.
REPLACE BATTERY - the battery is damaged, please change the battery.
BAD CELL-REPLACE - defective battery or battery cable. Please replace the battery or disconnect the cable for out-of-car test.
2. Cranking Test
- test start voltage and start time.
How To Check the Starting Motor Works Properly or Not?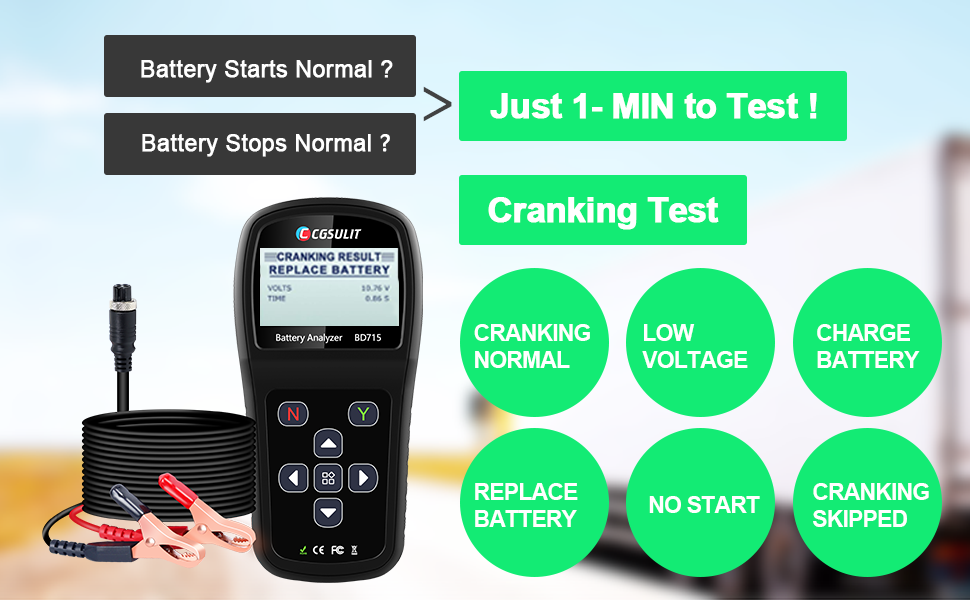 step 1
: Press the ENTER button for the cranking test.
step 2
: Start the engine when prompted by the device.
step 3
: The tester displays the starting status, starting voltage and starting time.
It Will Show You 6 Possible Results:

CRANKING NORMAL - starter voltage status is normal and the battery is fully charged.
LOW VOLTAGE - starter voltage is low, battery is fully charged.
CHARGE BATTERY - starter voltage is low and the battery energy is low. It is recommended to retest after fully charging the battery.
REPLACE BATTERY - the battery is damaged, please replace the battery.
NO START - the vehicle is not detected to start, please try again.
CRANKING SKIPPED - the vehicle is not detected to start, please try again.
3. Charging System Test - test the voltage state under no load and under load.
How To Check If Your Charging System Is Normal?


step 1: Start the engine according to the on-screen instructions.
step 2: Turn on the high beam and blower.
step 3: Run the engine under load.
step 4: Turn off the engine and load.
step 5: The tester will display the test results of the charging system at the end of the program.
It Will Show You 5 Possible Results:

NO PROBLEMS - the charging system is normal.
NO OUTPUT - the alternator output is not detected. Check all connections to the alternator, especially the battery cables. If there are any abnormal cables, please clean or replace the cables and retest. If all cables are connected properly, replace the alternator (consult professional maintenance for confirmation)
LOW OUTPUT - the alternator cannot supply power to the electrical load of the system. Please fully charge the battery. Replace or clean damaged cables in time to ensure normal operation of the alternator.
HIGH OUTPUT - the voltage output of the alternator exceeds the normal limit. Please make sure that all cables are connected properly. If the connections are loose or severely corroded, clean or repair the cables and retest. If all cables are connected properly, you may need to replace the alternator (consult professional maintenance for confirmation)
EXCESSIVE RIPPLE - the test shows that there is an AC ripple. One or more diodes in the alternator are not working or the stator is damaged.
Package List:
* CGSULIT BD715
* Tester Cable
* USB Cable
* User Manual
* Warranty Card
* Blow Molding Case
Product

SC530

SC880

SC870

SC630

SC301

SC204

Picture
Price(USD)

$149.98

$288

$169.98

$139.98

$53.99

$45.99

Full OBD2/EOBD Functions
√
√
√
√
√
√
Works On Brands
One Brand
Multiple Brands
Multiple Brands
Multiple Brands

         Multiple Brands        

        Multiple Brands     

Works On Systems
ALL
ALL
ALL
ABS, SAS, SRS, ENGINE
ENGINE
ENGINE
Active Test/Bidirectional Control
√
√
Special Functions

Turbo
Tcmoil
EPB reset
EVAP test
Odometer
Headlamp
Seat match
TPMS reset
ABS Service
Gear learning
Windows/door
TBA/TPS reset
SAS calibration
Injector Coding
CVT adaptation
AFR Adaptation
Prime fuel pump
Change Tire size
DPF regeneration
Clutch Adaptation
Language change
Transmission Learn
Replace Airbag ECU
Oil service light reset

Battery service reset

Turbo
Tcmoil
EPB reset
EVAP test
Odometer
Headlamp
Seat match
TPMS reset
ABS Service
Gear learning
Windows/door
TBA/TPS reset
SAS calibration
Injector Coding
CVT adaptation
AFR Adaptation
Prime fuel pump
Change Tire size
DPF regeneration
Clutch Adaptation
Language change
Transmission Learn
Replace Airbag ECU
Oil service light reset

Battery service reset

EPB reset
Oil service light reset

ABS
SAS
SRS
Every Home Mechanic Needs One of These...
I'm an engineer and have lots of things around my house with batteries and charging systems on them, cars, trucks, lawn mowers, motorcycles, scooters, tractors, generators, you name it. If it's got a battery and even though you keep a trickle charger on it, sometimes batteries go bad, they just do. Up till now, I've been at the mercy of the local auto parts store to test my battery and/or charging systems. No more, as you can see in one of my pictures, I did a battery and charging system test on my little motorcycle in about 2 minutes. All you need is a little information off the battery to put into the unit and the tester prompts you to do the rest. It was very intuitive and straightforward to use from my perspective. The unit itself, cables and operator manual come in a nicely made case with velcro straps holding the various pieces in position, well done. I have a lot of tools and I was really impressed by the quality of this unit, it looks like something a professional mechanic might use. This wonderful little tool will be added to my repertoire of tools in my shop...I didn't even know something like this existed for the home mechanic, but now I do. I would recommend this unit to anyone who's like me and has a lot of toys with batteries and charging systems...
Info
After a local auto parts store tested this battery and told me it was good. You can see why I bought this unit.
Nice upgrade from typical battery tester.
I've had the $40 battery testers before, but I wanted something with more functionality. When I say this model by CGSULIT, a brand I was familiar with, was available, I ordered it.
This comes in a very nice molded case, similar to the ones the nicer scan tools come in. The case holds the tool, a very nice set of 6'8" cables and the instruction manual.
This works on both 12 and 24 volt systems with batteries from 100-2000 Cold Cranking Amps (CCA.)
To test the battery, you connect the tester's clamps to the battery terminals, go to the main menus and select battery test, then 12v or 24v system, regular or start-stop test, in or out of vehicle, top or side posts, battery type (standard/AGM/Gel,) battery standard (CCA, CA, etc.,) and then enter the range of your battery. Press enter to start the test.
In addition, you can run cranking as well as charging system tests.
The display is easy to read, the menu system easy to navigate.
This is a quality tester for the advanced home mechanic.
pretty impressive battery tester
I've typically just used a volt meter and battery charger.
Then I was having issues with one of my vehicle batteries and decided to try this out.
It comes with a nice case. Seems to be of pretty decent quality plastic and has cables long enough to reach the cab of the vehicle which is where a lot of the testing needs to be done from.
Fit an finish is on par with some higher end scanners I have - pretty nice.
The manual goes through the basics, but it really doesn't explain a lot. But to be fair, other products of the same class don't either. There is some assumption you know what you are doing - if you don't - web searches will be your friend.
I tried it on 2 different vehicles - one with a battery on the edge and another with good batteries and 2 since it is a diesel. I'm somewhat impressed what this tester can figure out.
To use it - hook it up - the battery voltage starts the tester and shows the current voltage.
Go through the test and follow the instructions. It took me more than once to understand the sequence, and figure that I need to be doing this while sitting in the vehicle.
It will ask some questions - knowing the CCA of the battery will be needed to get a more accurate diagnosis. In vehicle, out of vehicle. Temp, just charged or not etc...
Follow the prompts. It does some tests with the engine off, then on, and then under load. It will ask you to rev the engine under load and unloaded to check the charging system. My Truck has been coverted to all LED lighting, so it was having some issues detecting load, so I ended up having to turn on all my aux lighting - so that may skew the data.
When it's all done it - it also has a summary screen to tell you the overall health.
I need to run this a few more times, but i'm pretty impressed with the variations this tester can detect, and I also have to run it to really understand what it's telling me.
So far - I like it - pretty impressive.
Had I known - I would have got one sooner.
No more guess work.... BT705 tester will tell you the good or bad news.
I am a professional technician and had been looking at several of these battery testers. We have one that work supplied for us but it is a joke.
I could test the same battery twice with the unit that the employer supplied and it would give me two different results. The CGSULIT BD715 arrived
early with no shipping damage. The unit is easy to navigate. I have several batteries in my garage. Tested three of them and it correctly identified the bad battery. I had just recharged the battery in my truck. Tested it and the BD715 stated it detected a surface charge and instructed me to turn the headlamps on to drain it. The work unit never did that. Plus it ask if the battery is in the vehicle or not. Several of my fellow technicians have used it and I think we should have several in the shop before long. Great tool for the price. Come in a strong case with slide locks. The flip up kind break.
Very happy with this purchase.
Excellent bit of kit
I had been having electrical problems with my car, all sorts of codes and dash lights poping up, sensors failnig and the like, I had chacked my battery with a digital multi meter and it showed as ok, so I couldn't understand what was going on, A lot of forums talked about how modern cars are very dependant on thebattery as a major part of the electrical and electronic system and how even a few volts of a drop can cause all kinds of problems, So I bit the bullet and bought this. Plugged it in let it do it's thing and it came back to tell me my battery was a dud. Bought a new battery and hey presto all my codes lights and issues were gone. Very easy to use and 100% reliable
Auto shop owner approved!
I own an auto shop and I can certainly say this is a great tool. Love the simple readout of "replace battery" "charge battery" also the cranking test, and alternator output test. is extremely helpful. Takes a few seconds to test vs my $1200 diagnostic tablet which takes several minutes. I got a coupon with mine so I got it for $108 which is a price you can't beat for something like this. Performs like a $300+ quality battery tester
Great tester.
This tester feels it's made of good quality.
It works as it should.
It comes in its own hard case with cables and a manual.
We have a vehicle that constantly has battery problems, and the sensor on the dash is on all the time, so we can easily monitor it to determine a possible battery replacement or just recharge it.
I am satisfied with my product.
Value for money tool
Step by step instructions clear in the display, if the final result could be bolded that would make a great product even easier to see final results of battery state.
Battery diagnosis in minutes
I'm have been an ASE certified mechanic for close to 40 years and this product has made battery condition diagnosis easy. This load tester exceeded my expectations and I would highly recommend this product to anyone in the automotive business that deals with battery diagnosis in any capacity.