Description
Youtube Auto Mechanic Scotty Kilmer Highly Recommended Brand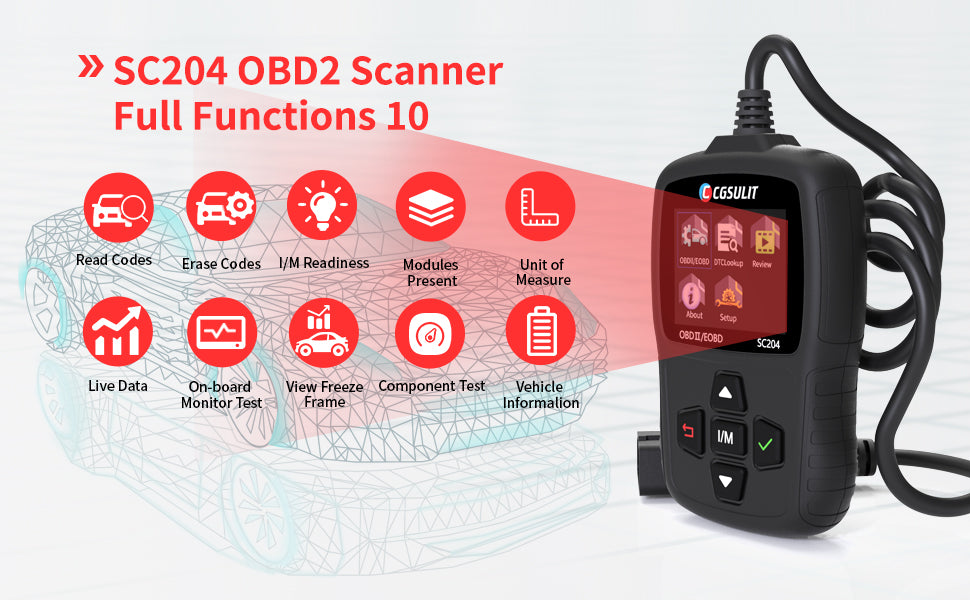 Peace of Mind Helper
If you have this check engine light OBD2 scanner, you can immediately run a check and interpret the codes to see if it is something that requires immediate attention. Not only can it save you time and money, but it also gives you peace of mind while you are on the road.
Preferred Choice for Gifts
SC204 OBD2 scanner check engine light code reader is a perfect choice for a husband, Daddy, boyfriend, or family who have a car. They sometimes may be troubled by car problems and don't know what they should do for their car. This is the meaning of SC204's existence. Easy to carry and easy to find the root cause of car problems. Just get the CGSULIT SC204 as a gift and surprise them!
Full 10 modes OBD2 Car Diagnostic Scanner
Read and erase fault codes, retrieve I/M readiness and freeze frame data, show live data in the text and graph format, auto VIN acquisition, O2 Sensor and EVAP Test (Mode 8), advanced On-board Monitoring (Mode 6).
On-Board Monitor Test
You can use the car scanner to diagnose the misfire and the live O2 monitoring to get an idea about a misfire coming from which bank and cylinder. This code reader car diagnostic tool will graph all the real-time streaming data it reads, including but not limited to Engine Coolant Temperature, Short Term Fuel Trim, Long Term Fuel Trim, Engine RPM, Oxygen Sensor Output Voltage, etc.
Wide Vehicle Coverage
SC204 bi-directional vehicle check engine code reader will work on domestic and import vehicles, such as light-duty trucks (12v only), SUVs and mini-vans with standard OBD2/EOBD/JOBD&CAN protocol. European vehicles from 2000, American ones from 1996, and Asian from 2008.
Deserve To Own
SC204 automobile code reader is built in speaker and 2. 4' TFT colorful LCD screen, offers visual and audible indication for readiness verification. A unique dustust-resistant surface makes this auto scanner tool stronger and more durable.
No Worries
Plug and play, no need for any batteries, get power directly from OBD2 interface in your vehicle. The multilingual menu supports English, Spanish, etc. Lifetime FREE upgrade to keep you stay current with the latest development in diagnosis.
Accurate and effective diagnosis for All Cars
CGSULIT SC204 Code Scanner offers accurate and effective functionality in terms of reading and clearing diagnostic trouble codes along with any other error readiness monitors, allowing you to figure out what's causing your engine's issues so that you're better prepared to face the problem and fix it either at home or at some professional mechanic shop.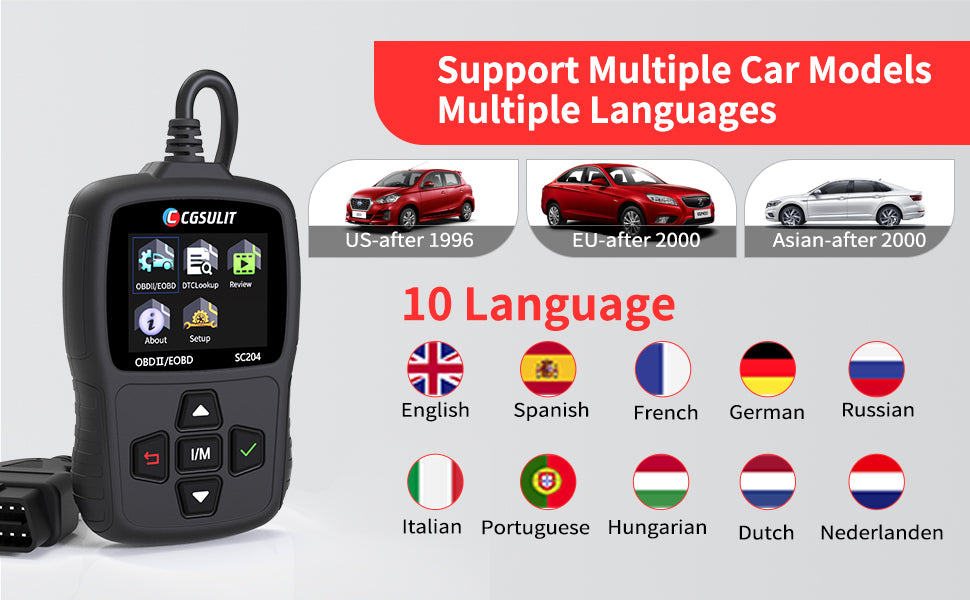 I/M Readiness 
Test Misfire/Fuel system/Comprehensive component to know if you are ready for a smog check, press the I/M button(rubber) for 3 seconds. Quickly monitor emissions readiness check and drive cycle verification. Let you know the comprehensive status of your car's engine system. Help you pass the Smog Check easily.
On-Board Monitor Test 
Can be utilized to read the results of on-board diagnostic monitoring, testing for specific components/systems. These give you a set of recommended fixes for problems detected by the scanner. This feature is tricky to score since the advice given is only valuable if the diagnosis is precise enough to pinpoint a specific problem.
EVAP System Test
Let you initiate a leak of test for the vehicle's EVAP system. This is a specific mode 8 command that tells your car to start a test of the 'evaporative emission control system' (mechanics call it 'evap' for short) that prevents fuel from evaporating out of your tank and contributing to smog. Triggering this test won't fix anything by itself, but once you do fix a problem with the fuel system it's nice to be able to manually trigger a test. This way you can verify your fix right away, without waiting a few days (or longer) for your car to run it automatically.
O2 Sensor Test 
Allows retrieval and viewing of O2 sensor monitor test results for the most recently performed test from the vehicle's on-board computer.
View Stream Data and Freeze Frame
To see the live data by graph or chart. The car diagnostic scanner lets you view "real-time" Live Data. This information includes values (volts, rpm, temperature, speed, etc.) and system status information (open loop, closed loop, fuel system status, etc.) generated by the various vehicle sensors, switches and actuators. It supports a detailed text display, and you can view all data stream items or select a certain item of live data with a graph.
Vehicle Info 
Display the information such as VIN(Vehicle Identification Number), CID(Calibration ID) and CVN(Calibration Verification Number). This code reader car diagnostic tool can retrieve vehicle information, such as VIN (Vehicle Identification Number), CID (Calibration ID) and CVN (Calibration verification number), etc., which offers help and convenience to users for repair or parts replacement.
DATA REVIEW
SC204 code readers & scan tools can help you review data, record data, playback data. Storing diagnostic data report for review, built in a lookup library to search for the definitions of DTCs stored in the DTC library and for code breaker information.
UPGRADE LIFETIME
The SC204 automotive code reader is ready to use out of the box, and it can be updated online lifetime free. Please visit www.cgsulit.com to download CGSULIT Update Assist.

Package List
* CGSULIT SC204
* User Manual
* USB Cable
Good scanner for the money
This scanner does a good job even on older cars like my '01 Honda Civic. It does more than just basic code reading and erasing, but don't expect it to work like a $200+ reader. On old cars (like mine) it is a little limited. This is not the fault of the scanner, it is the limitation of the computer that comes with the car. If this scanner is used on a newer car more stuff is available. Not bad for $69 but it would be better deal if they lowered the price back down to $50. Added Plus: Unlike another scanner (*COUGH* "INNOVA 5210") that costs about $100, THIS scanner comes with a full PRINTED owners manual in the packaging.
I like it need the one that does abs to
It works like it's supposed to
I used it troubleshoot the check engine light .
Then I used it to erase the codes displayed on my dashboard.
I bought this on the recommendation by Scotty Kilmer.
Versatile
Works on most vehicles. Small. Many functions. Very useful
A good diagnostic tool
It's work perfectly, it help to diagnostic and know what's going on with your car.
Saved car for passing pollution test
Easily cleared codes on Toyota. Toyota check engine light comes on if cap not turned until click. Traction control and anti-lock system lights all come on together. Same circuit. But just loose gas cap. This cleared the codes without having to disconnect the battery and waiting 10 minutes to re-connect. Better instructions on Youtube. Clear codes week before taking test as my state will fail car for just cleared codes. Having only one code showing will still pass your car.
Works Good! with 2010 Toyota Camry
Works good and cleared a trouble code, helped me trace down an intake leak.
works good with 2010 Toyota Camry
READ the manual
That middle button says I/M and is not an ENTER or NEXT key. The GREEN ck mark key is. Once I did that it worked fine. I have a 2004 Benz and a 2012 Toyota.
Great price and works well
Purchased to read the error codes on my car and it worked great. It gave the same error codes I got from the auto parts store. Unit was smaller than I thought but it worked and was cheap. No complaints so far.