Description
Compared to other complicated scanners, CGSULIT SC630 OBD2 universal scanner is designed for all family with cars at an affordable price to assist with the most common automotive warning lights issues, namely CEL(check engine light), ABS(brake) light, ESP/ESC(Electronic stability control)/Honda VSA(Vehicle Stability Assist) light, SRS(airbag) light, SAS(steering angle sensor) light faults.
Reading codes, Troubleshooting and Clearing codes just be an simple task by SC630, easily turn off the engine, airbag, ABS and SAS warning lights, avoiding a lot of unnecessary repair costs for you during this difficult time. Be your own repairman at home!
For family car owners with 1-3 cars of different brands, SC630 can diagnose all cars without extra software!
For new to car repair and diagnostics, SC630 presents menu options in a pop-up window to easily diagnose car issues.
For the automotive experienced mechanic/home mechanic, the SC630 is a time-saving tool that quickly helps them find the cause of vehicle problems with easy-to-read information and data.
Never Miss this Comprehensive SC630 Auto Scan Tool!
Works on the latest 2020/2021 models(after 1996), including cars, SUVs, minivans, 12v light-duty trucks worldwide;
Provides accurate and professional diagnosis of Engine/ABS/SRS/SAS systems;
ABS(

Anti-lock Braking System)

and Airbag reset functions coverage 58+ vehicle makes;
SAS (Steering Angle Sensor) calibration works on 41+ vehicle makes;
Allows to temporarily active or control ABS/Airbag system and component, including switches, sensors, relays& actuators and more;
Identifies cars quickly and easily operation with one key VIN reading;
Full OBD functions: Simple readers can only read standard OBD2 codes, while SC630 scanners can read vehicle-specific codes that simple readers cannot;
No need registration, lifetime free update

.
WHAT CAN CGSULIT SC630 DO FOR YOU?
Engine code reader
Many car owners are always confused with the flashing check engine light, which will appear because of various problems, for example, the engine injector should be cleared or engine combustion is not good. If the problem is not solved in time,it will affect the quality of vehicle ex-haust and pollute the environment. This check engine code reader will do you a favour to locate the cause and turn off the check engine light with the problem resolved.
ABS Auto Bleed Tool
Anti-lock braking system (ABS) is an important automobile safety system that allows the wheels on a motor vehicle to maintain tractive contact with the road surface according to driver inputs while braking, preventing the wheels from locking up (ceasing rotation) and avoiding uncontrolled skidding. An ABS warning lamp that is on usually means trouble and you need to pull the code to figure out what is wrong. The SC630 scan tool provides convenient service to read and erase codes for the ABS system.
ABS Funtion Coverage
Acura, Abarth, Alfa, Aston Martin, Audi, Bentley, Benz, BMW, Bugatti, Chrysler, Citroen, Daewoo, Dacia, Ford, Ford_EU, Ferrari, Fiat, GM, Honda, Hyundai, Infiniti, Isuzu, Jaguar, Kia, Lexus, Lamborghini, Lancia, Land Rover, Maserati, Maybach, Mini, Mazda, Mitsubishi, Nissan, Opel, Peugeot, Porsche, Renault, Rolls-Royce, Saab, Seat, Skoda, Smart, Sprinter, Scion, Ssangyong, Subaru, Suzuki, Toyota, Vauxhall, Volvo, VW, VW_CV
SAS Calibration Tool
SAS measures the rotation angle, angle velocity and direction of the steering wheel, providing information on the direction in which the driver wishes to go. Steering wheel angle sensor, a component of vehicle stability control(ESP/ESC/VSA)system, is mainly installed in the direction column below the steering wheel. 
SAS Funtion Coverage
Acura, Audi, BMW, Benz, Citroen, Chrysler, Dacia, Daihatsu, Daewoo, Ford, Ferrari, Fiat, GM, Honda, Hyundai, Infiniti, Jaguar, Kia, Lexus, Lancia, Land Rover, Maserati, Maybach, Mini, Mazda, Mitsubishi, Nissan, Opel, Peugeot, Porsche, Renault, Romeo,Scion, Seat, Skoda, Subaru, Toyota, Vauxhall, Volvo, VW.
SRS(Airbag) Reset Scanner
There are many possibilities if the air bag warning light stays on. SC630 airbag scanner allows you to have a deep analysis and detection for your vehicle via read fault codes. (To turn off the airbag light successfully, please make sure that you already changed the airbag.)
SRS Function Coverage
Acura, Abarth, Alfa, Aston Martin, Audi, Bentley, Benz, BMW, Bugatti, Citroen, Chrysler, Dacia,Daewoo, Ford,  Ford_EU, Ferrari, Fiat, GM, Honda, Hyundai, Infiniti, Isuzu, Jaguar, Kia, Lexus, Lamborghini, Lancia, Land Rover, Maserati, Maybach, Mini, Mazda, Mitsubishi, Nissan, Opel, Peugeot, Porsche, Perodua, Proton, Renault, Rolls-Royce, Saab, Seat, Skoda, Smart, Sprinter, Scion, Ssangyong, Subaru, Suzuki, Toyota, Vauxhall, Volvo, VW, VW_CV 

Active Test/Bi-directional control

SC630 Bi-directional scan tool will temporarily activate or control a vehicle system or component and check the electronic components such as switches, sensors, relays, and actuators.
For example, if "Press Brake Pedal" displays, you have to press and hold the brake pedal and then continue. The sequence, number and type of tests are dictated by the control module.
Full OBD2 Functions-Enhanced Engine Code Reader
SC630 can easily diagnose problems with the engine system and turn off the check engine light(MIL).
Read Codes

: The Read Codes function can be performed with the Key On Engine Off (KOEO) or with the Key On Engine Running (KOER). [including Stored Codes, Pending Codes, Permanent Codes]

Erase Codes

: Erasing the Diagnostic Trouble Codes may allow the scan tool to delete not only the codes from the vehicle's on-board computer, but also "Freeze Frame" data and manufacturer-specific enhanced data. Further, the I/M Readiness Monitor Status for all vehicle monitors is reset to Not Ready or Not Complete status. Do not erase the codes before repairs or services have been performed.

Live Data

: The View Data function allows viewing of live or real time PID data of vehicle's computer module(s).

View Freeze Frame Data

: Freeze Frame Data allows the technician to view the vehicle's operating parameters at the moment a DTC (Diagnostic Trouble Code) is detected.

Retrieve I/M Readiness Status

: I/M Readiness function is used to check the operations of the Emission System on OBDII compliant vehicles.

O2 Monitor Test

: OBDII regulations set by the (Society of Automotive Engineers) SAE require vehicles monitors and tests on the oxygen (O2) sensors to identify problems related to fuel efficiency and vehicle emissions.

On-Board Monitor Test

: The On-Board Monitor Test for CAN-equipped vehicles retrieves and displays test results for emission-related power train components and systems that are and are not continuously monitored.

Component Test

: The Component Test initiates a leak test for the vehicle's EVAP system.

View Vehicle Information

: The Vehicle Info. function enables retrieval of Vehicle Identification No.(VIN), Calibration ID Nos. (CINs), Calibration Verification Nos. (CVNs) and In-use Performance Tracking on 2000 and newer vehicles that support Mode9.

Modules Present

: The Modules Present function displays the module IDs and communication protocols for OBDII modules in the vehicle.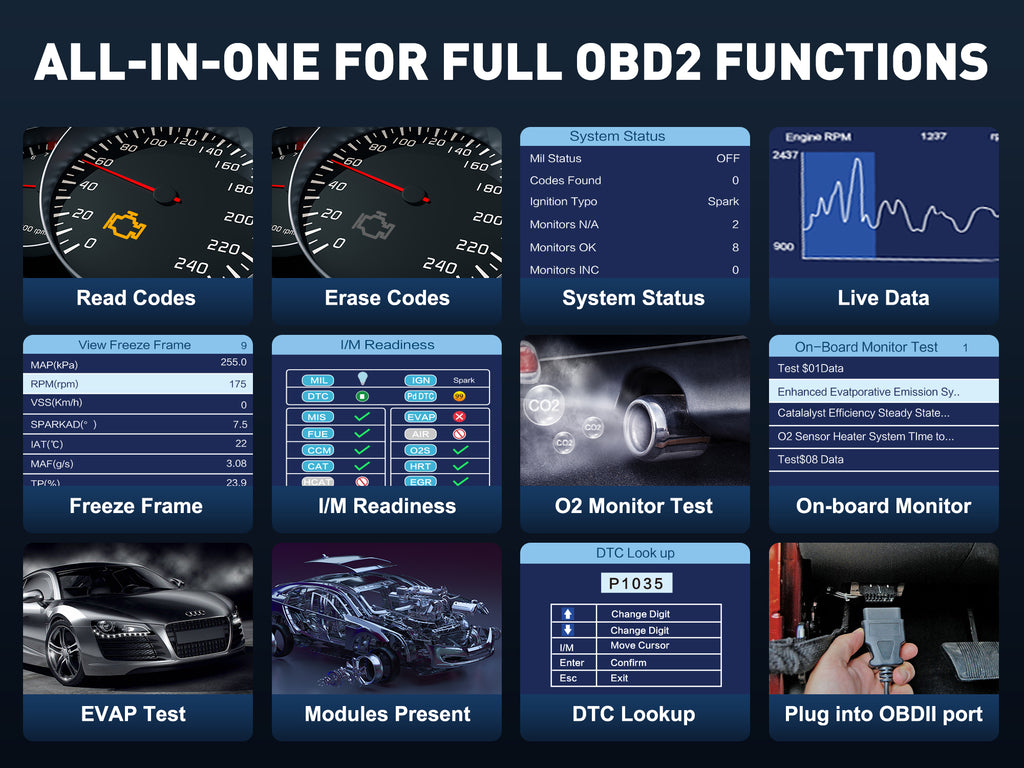 Support 16+ Languages
Supports more than 16+ languages, such as English, Chinese, French, German, Spanish, Japanese, Russian, Polish, Dutch, Portuguese, Korean, Traditional Chinese, Swedish, Italian, Hungarian, Slovenian, Thai etc.
Lifetime FREE Update and Easily Done

Lifetime free updates and a one-year warranty, so you always have the latest bug fixes,  newly added information and functions, and you can also connect to a computer at any time, share data, and even print data.
AutoVin Technology/Manual input VIN
If it takes too long to get the VIN code automatic, press Cancel to stop and input the VIN manually. (Note: Some models may does not support auto vin function, please also type it in manually.)
2 in 1 Live Data
Reading vehicles codes and show you real-time live sensor data in text and graph. You can monitor the live data to check if there are some faults with your vehicle. Shows 2 PIDs simultaneously and supports merge them into one to compare. 

Error Codes Definition
No more on-line search. Built-in DTC lookup library, retrieves generic (P0, P2, P3, and U0) and manufacturer specific (P1, P3, and U1) code, show the code definitions. Help you to find the cause of warning light, and point you in the direction of where the problem was.
Package List

* CGSULIT SC630
* Diagnostic Cable
* USB Cable
* User Manual
* Warranty Card
* Portable Nylon Pouch
* Outer Carton

Easy and intuitive to use.
I found this unit incredibly easy to use. It does way more than I need it to do. It displays a menu right from the start up. I only want to read codes so I have to make sure I click on the correct button. It also does stuff with brakes and airbags that I will not use so I can't comment on that.
As far as the code reader portion, it works perfectly. It feels high-quality. Even the cable that connects the reader to the car is very thick and sturdy and plugs in easily. The cable has two little thumb screws so that you can securely screw it into the reader while using it. The cable is quite long making it very convenient.
As a bonus the reader comes with a USB cable so that you can update it for newer cars and such. Also included is a carry case. I've included pictures in my review so that you can see it.
I feel very comfortable recommending this reader to the backyard mechanic and even semi professional mechanics. I'm sure it doesn't have all the bells and whistles that a hard-core mechanic would need but this thing has a lot of features.
One of the best features is the fact that you don't have to subscribe to updates every year. It comes with free updates. Just plug it into a computer. I have not updated this one as it is brand new but I am rather confident that it's an easy process. A well-made product.
Great Product
I need to call out the fact that customer support from CGSULIT was superb! The agent I interacted with was always available to answer questions promptly and give me guidance on the proper device selection. She was always in contact with the engineers to confirm the use of a unit for my particular vehicle as well as making recommendations on proper use. I've never encountered an individual in customer service who was so responsive, courteous and knowledgeable.
Top notch.
This scanner is great! It reads airbag and ABS codes as well as being FAST! The live data is nice to see and having the availability of explaining the codes right on the machine is priceless. 100% recommend this one.
Removed airbag warning on 2014 Altima!
After installing a subwoofer and routing the cables to my 2014 Altima, the airbag warning indicator popped up. I ran tests using the SC630 and everything passed with flying colors so I went ahead and cleared the code. Saved myself $$$ doing this as opposed to going to a dealer well worth the money!!
Paid for itself big time
I usually don't write reviews, but feel the need this time.
My daughter wrecked her 2014 Jeep Cherokee which deployed the curtain and seat airbags. We sent the airbag module off and had the hard codes reset and located replacement seats from a local wrecking yard.
After everything was replaced we still had a check airbag system lit on the dashboard.
We're happy to report this scanner identified all three issues.
1) Our first issue: "Second row left side airbag squib-wires shorted together". A broken wire was found under the rear passenger seat we pulled from the junkyard and easily repaired.
2) The second issue: "Passenger seat belt retractor pretensioner deployment control wires shorted together". We had to replace the seat belt because it was deployed and locked. Another easy fix. The connector was not fully locked after installation.
3) Finally: "Lost communication with the Occupant Classification Module". The module is located under the front passenger seat and has a clear tube connected to it. Jeep changed something in the model years even though everything plugged in okay. We had to pull the Occupant Classification Module and wiring off the old seat to clear the codes.
The tool has a Live Mode and measures the resistance on the various circuits in ohms which was also a huge help seeing what was open.
Budget scantool for entry-level and advanced DIY'ers
First of all the communication I received from this company is fantastic. They replied to all my emails. Second of all the price point makes this one of the most competitive units out here. It's rare to get a scantool around the $100 mark where you have ABS bleed and ABS system actuations. Additionally, it also has Airbag codes reset and SAS calibration. And, of course, it has all the OBDII and code read, codes erase features you would expect. Lastly, it has free lifetime updates. So, if you are new to working on your car, this is a good scantool to start with, or if you are an advanced DIY'er this could be a second scantool to use when you don't want to pull out your big one, or if you want to go check out a friend's car right quick. If you get this one, you will not be disappointed.
Great product
My ABS warning light came on after my 2002 F250 7.3 sat too long from not driving and older batteries were tired, low voltage. Charged up the batteries and started the truck right up but had the ABS warning light and it would not go off. Even after pulling the battery cables and letting sit overnight would not clear the code.
Decided to buy this unit as it appeared to be compatible with this vehicle. The good news is the meter is simple to use it worked real well and this unit was able to clear the ABS warning light and the issue has not come back so the meter has paid for itself already.
I would absolutely recommend this unit and I would probably buy one again myself if needed.
It works! It's under $200
We own a very small used car dealership and the scanner we'd been using was outdated. (only scanned up to 2012) this scanner has bridged that gap on a budget. Covers many manufacturers. Did reset the airbags on multiple vehicles. Can be updated via computer but comes preloaded with most info you need on delivery. My only complaint is though this is small and lightweight it feels almost hollow. The weight of it makes it feel cheap, but as far as usage it has lived up to our expectations. The interface does take some getting used to as with any new gadget. Comes with clear and thorough instructions. Nice handheld.
I am getting a prompt (pictured) while scanning some vins. Have not really looked into it further or contacted tech support on the item.
Worked for resetting steering angle sensor (SAS) on 2007 Nissan Armada
I almost never leave reviews, but since I had a somewhat difficult time researching which lower-end scanners would or would not recalibrate the SAS on my 2007 Armada, I thought I'd leave a note here in case it can help out others in my situation.
I had to replace the clock spring in the truck due to open circuit on driver's side module. This requires recalibrating the SAS. Nissan shops wanted up to 2hrs at $120/hr just to reset the sensor. Makes what I spent on this scanner well worth it even if I use it *only* for SAS on this vehicle (I've heard SAS also potentially needs reset any time you disconnect the battery, though I've never needed it only for battery disconnect).
Took 15 minutes after delivered to reset srs on 08 mitsu eclipse!!
I was nervous ordering a scanner after reading so many stories and reviews about the flood of clones from overseas. I have only had this for a day but it has already paid for itself. I needed to reset the srs light in my 08 mitsu eclipse. I have a 70 mile drive to. the nearest dealer plus the shop charges $100 an hour.
After reading several reviews I decided to go for it even the horror stories about how hard it was to register and update.
I'm not sure what they were trying to do but it took me about 10 minutes to download the app onto my PC, register, and update the tool. About 10 more minutes later and I was sitting in my car grinning ear to ear because my flipping srs light was finally off. I sat there for a while longer playing with other features including looking at the speed of each wheel and several other facts about my car, I am just flat out amazed and truly feel like I got a great value for my money, not a feeling I have often lol. If it breaks in the future I will update the review