Description
EASY INSTALL & PROGRAM

Programmable universal TS01 Sensors are 100% ID clone-able with no relearn required and offer latest model vehicle coverage because they quickly update during installation with CGSULIT TPMS80 and AUTEL TPMS tools:TS408 TS508 TS601 TS608 808TS 906TS.
REPLACED THE OEM
CGSULIT TS01 Sensor combines both 315MHz + 433MHz frequencies into one TPMS sensor with the 98% vehicle coverage. Work as good as OEM and same as original at a much lower price.
 
MONEY-SAVER
Bought 4 TS01 sensors cost you less money than the price of just one at a dealership or local tire store. An easy to use and cost-effective necessity for any shop performing TPMS repairs.
 
DURABLE & SOLID CONSTRUCTION
Equipped with an automotive grade battery (battery life ≥5 years), a replaceable aluminum valve stem to withstand cold, hot and resistance corrosion, and a high-precision air valve to prevent air leakage.
 
WARRANTY
CGSULIT guarantees that the sensor is free from material and manufacturing defects for a period of 24 months or for 24,000 miles.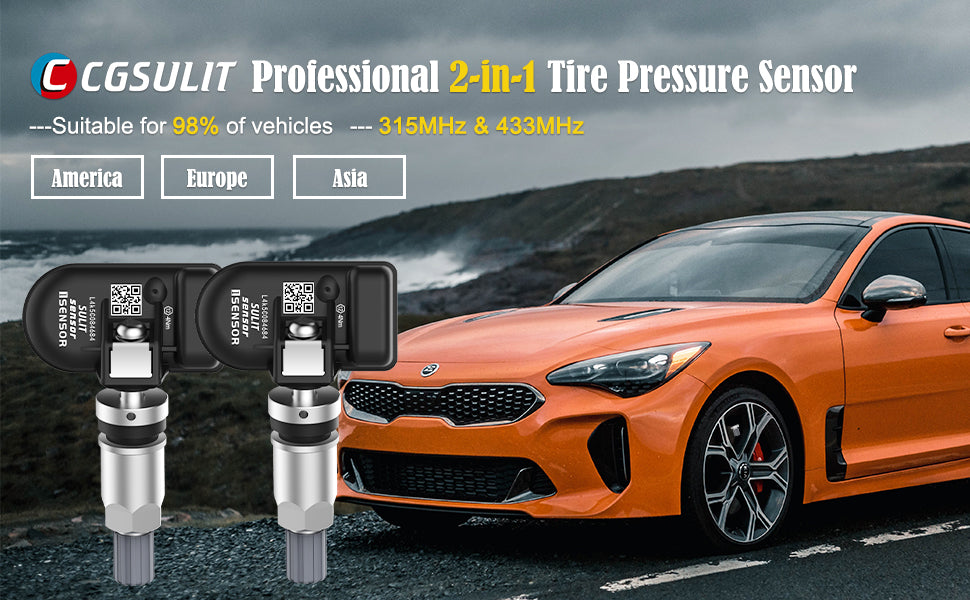 CGSULIT provides you with a completely blank programmable professional tire pressure sensor.

Amazingly combines two frequencies of 315MHz + 433MHz into one.
Supports 98% of commercial vehicles and various small cars from the America, Europe, Asia.
Can 100% ID clone-able dual-frequency or program TPMS sensor for all kinds of vehicles.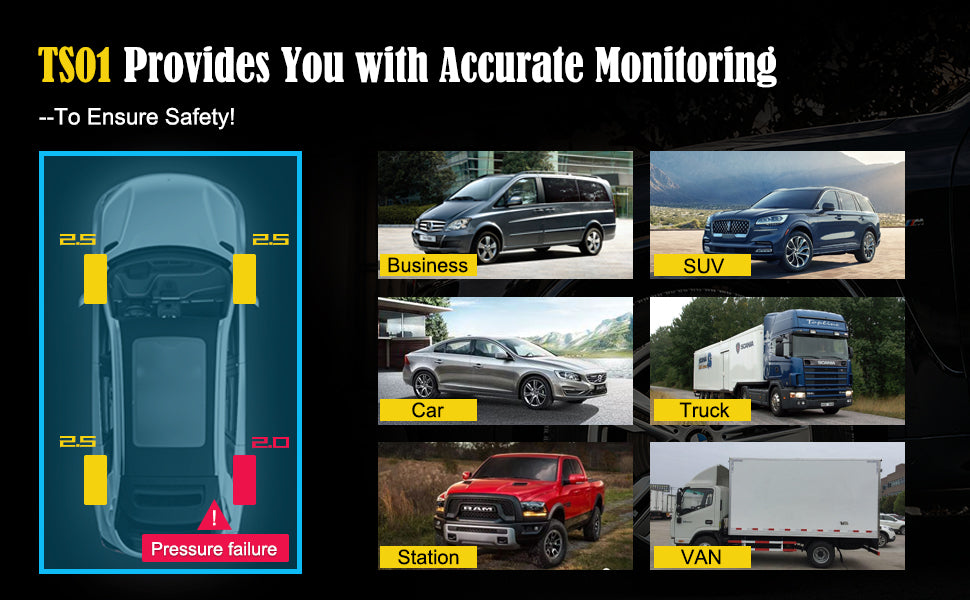 TS01 TPMS Sensors will Provide You with Accurate Data-tire Pressure and Temperature!
-A Good Tool to Ensure Safe Driving

For the direct tire pressure monitoring system, when you install TS01 tire pressure monitoring sensors in 4 tires respectively, they can help you to automatically monitor the tire pressure and temperature in real time when the car is stationary or driving.

It also gives timely alarms to the tire high pressure, low pressure and high temperature conditions, then uploads it to the car's ECU module via RF (Radio Frequency), and finally displays it on your dashboard to help you find problems in time and avoid traffic accidents caused by tire failure to ensure driving safety.

Support 98% of All Kinds of Cars and Commercial Vehicles
The CGSULIT TS01 dual-frequency (315MHz + 433MHz) TPMS sensor can provide services for almost all vehicles equipped with TPMS, including various small cars, commercial vehicles, trucks, etc., which largely eliminates the need for hundreds of types of sensors for repair shops and distributors troubles.



We are Using the CR2050 Panasonic Battery and Strengthened by 10% to be More Durable (Work for 5-6 Years)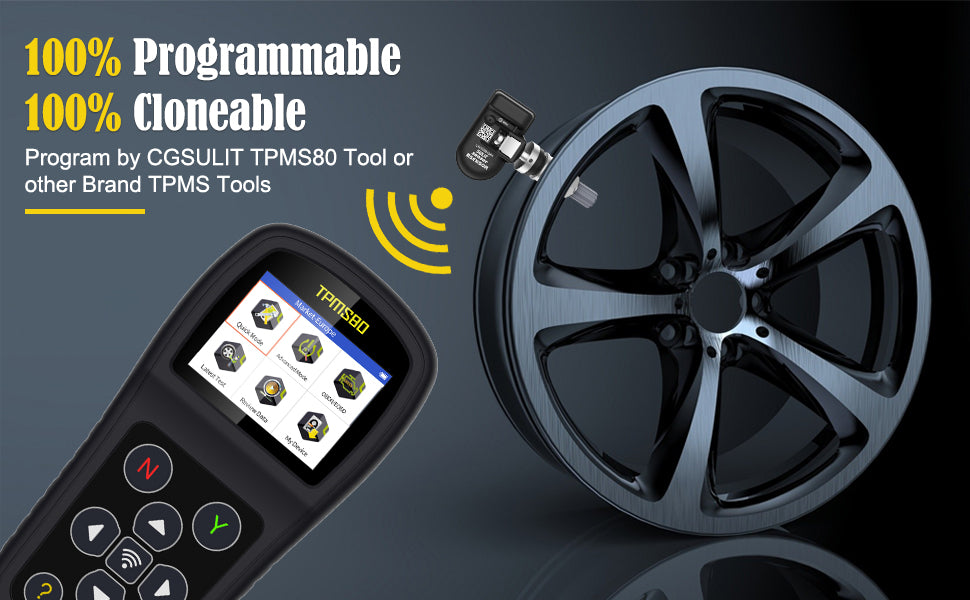 Support Wireless Programming, Please Note:
CGSULIT TS01 arrive blank and must be programmed with CGSULIT TPMS80 tool or other brand TPMS tools. But it can be matched by any TPMS tool after the programming.

The TPMS sensor assemblies are replacement or maintenance parts for vehicles with factory installed TPMS. Please make sure to program the specific vehicle make, model and year before installation.

The sensors are safety-relevant part, so we recommend the installation by the professional.

TS01 TPMS Sensor can be programmed before or after installation, but we recommend to program it before installation. If install it after installation, please ensure the tire pressure is deflated to 0kpa.
Do not install programmed TPMS sensors in damaged wheels.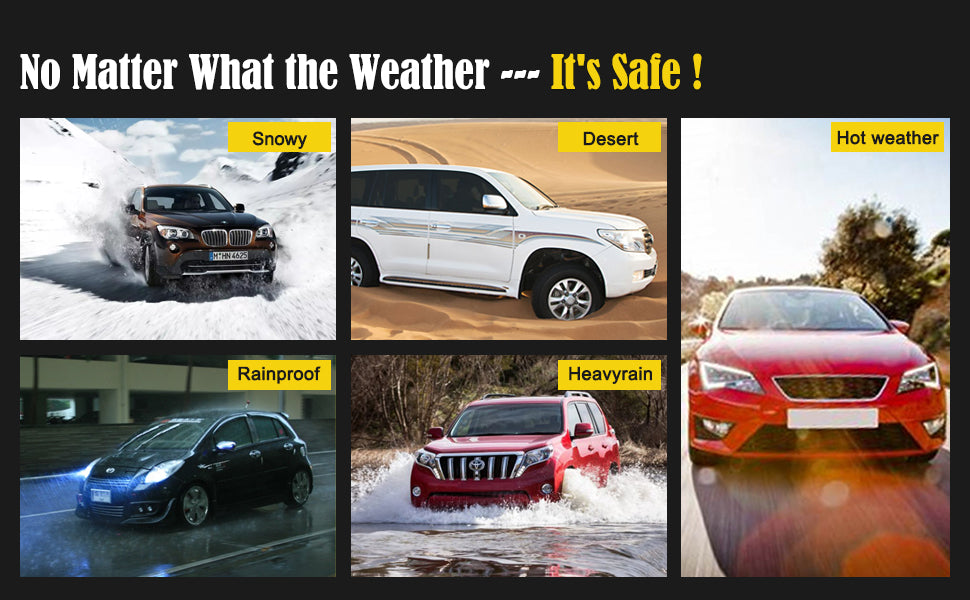 How to install TS01:
Used these for a set of wheels that I put snow tires on. Used my TPMS80 to program them. Could not have been easier. I plan on purchasing another set for my other car's summer wheels.
Excellent working sensors. Having the TS01 makes everything easy. If you are having that problems, go to the video on YouTube
First off, I have bought and programmed only 8 of these in my life. They are only a couple months old but have been working great. No problems as of yet. They look like they are built well. No light on the dash anymore.
When I staling these sensors, you are basically cloning your factory sensors, so the vehicle never really knows anything was changed. Unfortunately, I couldn't give 5 full stars, because intermittently, when I start the vehicle, I will get a low pressure warning, but it goes out in about two blocks.
I had install these TPMS sensors on my Ford 2015 F350 , they were by far the cheapest in town to do this. I used the TPMS tool TS01, I plugged into the vehicles ECU , used this tool to read the old sensor IDs and then cloned those ID numbers to the new sensors, I purchased the Motorcraft transmitter TPMS -19 , put the vehicle in the relearn mode and activated the new sensors to the ECU, sounds like a lot, but you only have to buy the tool one time ,you're set after that. If you buy the OEM sensors from the dealer you're going to spend over $400 just on those, then you'll spend another couple hundred for them to install them and program them to the ECU.
Work exactly as you would expect. You will need a tpms tool. I run a set cloned in my winter tires so i don't have to recalibrate every time i switch
Just added a different set of wheels and tires to my pickup and was able to read the existing codes from the oem tires and program the new sensors to match the tires coming off. It was easy and didn't even have to relearn the tire locations.
I bought a set of these along with theTPMS80. Couldn't believe how easy it was to clone the TPMS sensors on my car with these!
Worked on my 2012 Ridgeline