Description
Why not get one CGSULIT SC530 for your BMW now?

Except for auto repair shop, here is another choice for you to learn about your BMW condition deeply. With the money you paid for once battery registration or other car maintenance, you can get one professional SC530 BMW automotive diagnostic scanner definitely. This tool takes away the auto shop's monopoly on repair work and puts it in your own hands. 
Time and money are both important, this amazing vehicle diagnostic scanner allows you to get a faster, more accurate test result by delivering OE-level diagnosis on all electronic systems. The perfect scanner for BMW owners, is worth every penny, and it also as an auto code reader to read, clear codes from almost all BMW systems and check obd system on other car makes.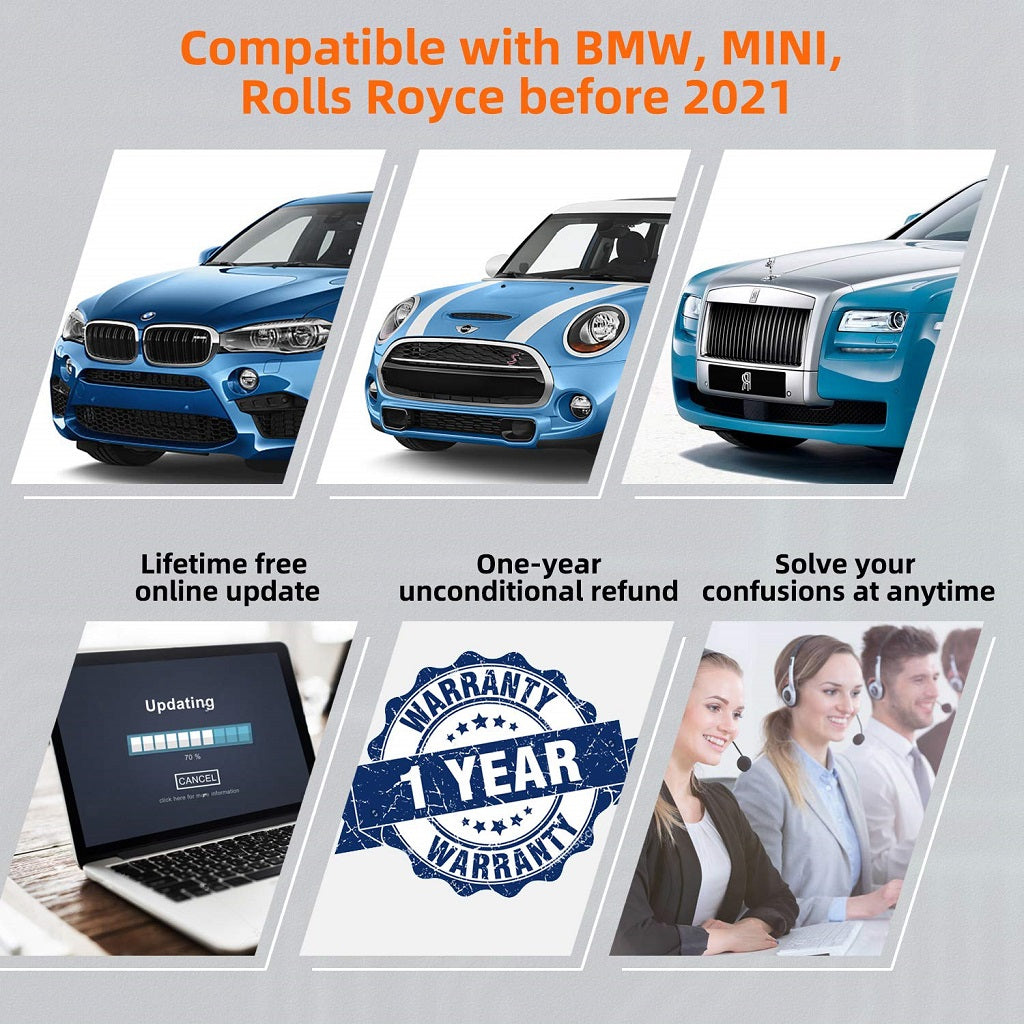 -
Work on
BMW, MINI and Rolls Royce
from 1987 to 2021;
-
Compatible with global OBDI/OBDII/EOBD;
-
Supports
full 10 OBD test modes
;
-
Reads, clears codes and turns off MILs;
-
Requests and records live sensor data, displays freeze frame data;
-Does active test on specific systems and components.
ALL SYSTEM DIAGNOSIS FUNCTIONS IN YOUR HAND:
This BMW scanner tool is capable of reading and clearing trouble codes of all major systems, including Engine, Airbag, Transmission, Immobilizer, ABS, SAS, EPB, DPF, DISA, DSC, SZL, TPMS, and supports body, chassis, power-train and all control modules check. As a professional automotive diagnostic scanner for BMW full systems, SC530 auto scanner is also a universal OBD code reader for checking engine light, reading and erasing codes on all makes cars' OBD system.
ADVANCED RESET SERVICE FOR BMW:
Control service interval reset, brake deactivation, ABS activation, battery registration, ABS bleeding, reset oil light service/engage points for transfer case, idle speed adjustment, traction/throttle body adjustment, troubleshoot A/C, reset CBS condition-based service, turn up brightness on your lights, activate alarm, dvd are just a few of special functions this BMW diagnostic scanner provides. One SC530 vehicle scan tool is enough for professional automative diagnosis.
✅BI-DIRECTIONAL/ACTIVE TEST OPERATION:
SC530 auto scanner for BMW allows you to temporarily activate or control a vehicle system or component for active test and provides accurate data results about troubleshooting and diagnostic problems. With this automotive code reader, electronic components check, such as switches, sensors, relays, actuators are made a simple task. It also allows you to re-calibrate, adapt or configure certain components after making repairs or replacements, which included but are not limited to battery registration, CAS reset, CO adjustment, transport model deletion, disable/enable key.
✅HIGH EFFICIENCY, RELIABLE QUALITY, LONG SERVICE LIFE:

Ergonomic design and ruggedly built are for both shop and road tests, you'll fall in love instantly with the obdii diagnostic tool. Perfect for allowing diagnostic tests inside or outside of the car, and the clear menu makes it easy to operate. Playback and data print is also available.
✅COST-EFFECTIVE & ZERO-RISK PURCHASE:

This Affordable BMW scan tool is compatible with older 1987(20pin adapter needed) to 2022 BMW, Mini and Rolls Royce. Online free upgrade to obtain newly added parameters and functionality at your fingertips. One-year warranty and no-worry return are offered. Just get one now, it will definitely surprise you beyond imagination!
✅EXCELLENT APPEARANCE AND SHEATH:

This obd scanner for BMW is good value for money: Color screen and menu-driven operations make it easy to use; Multilingual menu options and code definitions are available; Comfortable buttons give you a different experience when testing your car; Backlight technology makes it clear to read even in daylight.
✅YOU DON'T NEED TO PAY SO MUCH:
CGSULIT SC530 BMW reset tool provides
advanced functions, which usually only be available from BMW dealer-level scanners or much more expensive professional tools. In addition, this tool can be used as an ordinary obdii scanner for all brands of cars on the engine system, to help you turn off the engine light and pass the smog check.
Why pay a technician more than 200 dollars to connect a scanner to the OBD2 port when you can do the same troubleshooting by yourself?
✅NEW FEATURE, SAVE YOUR TIME:

The history feature allows you to save history data and VIN number, no need to input it manually every time.
Your BMW Has Been Waiting for a CGSULIT SC530!
SC530 is a professional BMW scan tool for car owners, enthusiasts, independent repairs, specialized garages and technicians. It does not only include basic functions, but also is capable of advanced functions - actuation, adaptation and sensors activation. In addition, it allows you to access the most commonly required service features such as brake deactivation, service resets, ABS bleeding, BCM/SIR setup, throttle body alignment(TPS/TBA) and much more.
Oil Service Light Reset:
SC530 BMW scanner offers help to reset the Oil Life Reminder (turn off the Oil Service Light) when the replacement of engine oil is done in case of the impurities in oil may damage the engine. So vehicles can recalculate another optimal oil life change interval depending on the vehicle's driving conditions and climate. Your driving safety also gets ensured.

Electronic Parking Brake (EPB) Service:
Allows you to perform service and maintenance, including deactivation and activation of brake control system, bleeding brake fluid, opening and closing brake pads, and setting brakes after disc or pad replacement, on where electronic brake systems are fitted. Diagnoses EPB caliper functionality, initializes the wear indicator if new pads are installed and deactivates or re-activates brake control system.

Airbag (SRS) / Anti-lock Brake System (ABS) Service:
After diagnosing on airbag system errors in the event of a crash or during regular maintenance, it promptly erases fault codes and takes corrective actions to ensure the airbag system functions normally. When the ABS contains air, the ABS bleeding function must be performed to bleed the brake system to restore ABS brake sensitivity.

Immo&Keys Service:
SC530 helps you make EWS(Electronic Immobiliser) adjustments, reset the stater lock. Block and enable remote key. Ignition key personalization number.
Injector Coding:
Write injector actual code or rewrite code in the ECU to the injector code of the corresponding cylinder to more accurately control or correct cylinder injection quantity. 
Throttle Service(TBA): 
Using the throttle position sensors in the throttle body, the ECU learns the full open and full closed positions through various states (idle, part throttle, WOT) known as a Throttle Body Alignment (TBA).

Diesel Particulate Filter Regeneration(DPF):
Allows you to perform the DPF cleaning to clear the blockage through continuous burning of the particulates captured in the diesel particulate filter. When a DPF regeneration cycle is completed, the warning light automatically goes off.
Steering Angle Sensor (SAS) Calibration:
Allows you to perform calibration of the steering angle sensor, which permanently stores the current steering wheel position as straight-ahead in the sensor EEPROM. After calibrating the sensor successfully, its fault memory will be automatically cleared.

More special service:
Brake Bleed, Headlamp reset, Clutch adaption, Windows/Door/Proof, Turbo, EVAP test, Transmission Learn, Language change, Gear Learning, A/F Adjust, CVT, Odometer, Seat Match, Prime Fuel Pump, Change Tire size, Tcmoil, etc.
Merge Live Sensors Data in Graph.
CGSULIT SC530 for BMW shows live vehicle sensors data in text and graph, which allows you to focus on any suspicious or symptom-specific data parameters, and gives you the"real picture" of what's going on in the vehicle. You can view two parameter graphs simultaneously and merge them into one coordinate, and it will be easily seen how they affect each other, providing you with the most comprehensive and functional look at live sensor data.

Lifetime FREE Update and Easily Done:
Lifetime free updates and a one-year warranty, so you will always have the latest bug fixes, newly added information and functions, and you can also connect to a computer at any time, share data, and even print data.
SC530 BMW Scan Tool Package List:
* CGSULIT SC530

* Diagnostic Cable
* USB Cable
* User Manual
* Warranty Card
* Portable Nylon Pouch
* Outer Carton
Does Far More Than Typical Scanners!
This scanner has been fantastic in helping me properly diagnose issues without just giving me a generic error code. The ability to be able to view and test each module for my 2009 BMW 535xi has already saved me several hundred dollars! Recently, I was getting misfires and random limp mode errors on my 535xi and typically a normal scanner would just provide misfire codes and nothing more, meaning it could literally be anything. So instead of just replacing coils, plugs, injectors etc... I was actually able to get into all related fuel and ignition modules which played a huge part in finding the fault. It turned out that my fuel pump module (EKP) was going bad and failed the built-in diagnostic test. I replaced the fuel pump module with another one and it began working without issues once again! Another very helpful feature is that it can give you specific information on what modules you have exactly. In the pic here, you can see that my fuel pump module has a part number of 7276383, which is helpful in ensuring that I ordered the correct part. Not only can it do that for the fuel pump module, but for each module itself, which is a big time and money saver when ordering parts. I'm glad I was able to find this scanner and can't wait to help out other friends with issues that they may be experiencing on their vehicles as well. It's worth every penny, because to get a scanner with all these features, you'd be paying well over $1,000! (Snap-on, etc...)
Good packaging and fast shipping!
Easy-to-operate design and good packaging, also comes with a portable carry bag. Can't wait to test it out!!! I am in Mississippi and it took about 6 days to arrive.
Useful Special Functions
Immo&Key function allows me to add a new key and remotely disable the lost one. It's very practical, and also has many other functions, such as battery reset, oil change and other daily maintenance items. Must say it's definitely a great choice!
Impressed
what a great value! I have 3 Cars and it works for every one last week my Mini cooper had a air bag lite come on, I hooked up the CGSULIT scan tool and read the issue and all it needed was to be reset i was luck but i didn't have to pay somebody to clear the code i did it my self.
Good overall system
While I don't know about a lot of the features of the unit. It reset the airbag light in my BMW. Which was one of the reasons I bought it. It has a lot of features and read every computer on the car. A touch screen would have been a nice addition to the unit which it lacks. Instead you use buttons on the unit similar to a tv remote. This works but seems dated. So far I am happy with the purchase.
Simple and good
Good scanner for a quick scan. I use it every time I get a car with a engine light and so far so good.
Comes pre-programmed.
Dude this is the best thing since sliced bread! Ha ha. no... I am a real person, not a bot or a paid reviewer.
It worked for my MINI Clubman whose brake light was on. I suspected wheel speed sensors were bad............and this tool was able to check the output of all sensors. They were ok. Guess what was the problem? Low brake fluid level......I kick myself for spending big bucks on this tool but not checking simple maintenance things like that.
Anyway, I kept this tool for future trouble. It came pre-programmed for BMW.
Highly recommended!
Great economical product worked as advertised
Right out of the box easy instructions worked as advertised fixed my problem thank you great product.
Saves you money
This scanner works great! It was very useful running diagnostics on my 325ci. It has saved me hundreds of dollars fixing the issues myself.
As the headline states, it paid for itself the first use. I have other products to work on my BMWs, but when I couldn't get a software package on my laptop to work for a simple task of fixing steering angle sensor associated errors (six or so of them) I was looking at having to go to my mechanic. My mechanic is reliable and honest and I would have still paid almost as much for the time. This unit definitely is not as simple as a smart phone to use but not at all difficult. Just follow the prompts and you're there. Took all of 20 minutes to fix. Now on to the next...