Description
Youtube Auto Mechanic Scotty Kilmer Highly Recommended Brand

Why select CGSULIT SC204 OBD2 code reader?
-Full Ten modes OBD2 Car Diagnostic Scanner
Read and erase fault codes, retrieve I/M readiness and freeze frame data, show live data in the text and graph format, auto VIN acquisition, O2 Sensor and EVAP Test (Mode 8), and advanced onboard monitoring (Mode 6).

-On-Board Monitor Test
You can use the car scanner to diagnose the misfire and the live O2 monitoring to get an idea about a misfire coming from which bank and cylinder. This code reader car diagnostic tool will graph all the real-time streaming data it reads, including but not limited to Engine Coolant Temperature, Short Term Fuel Trim, Long Term Fuel Trim, Engine RPM, Oxygen Sensor Output Voltage, etc.

-Wide Vehicle Coverage
SC204 check engine light tester will work on domestic and import vehicles, such as light-duty trucks (12v only), SUVs, and mini-vans with standard OBD2/EOBD/JOBD&CAN protocol. European vehicles from 2000, American ones from 1996, and Asian ones from 2008.

-Lifetime FREE upgrade and multiple Languages
The multilingual menu supports English, Spanish, etc. Lifetime FREE upgrade to keep you updated with the latest developments in diagnosis.
-Pass Smog Check Easily
To connect the SC204 with your car,just press the I/M button first and then the tool will diagnose the problem in 1-2 minutes. If there are something wrong,you can erase fault codes.And at last you just need to drive for 10-20 minutes.It's easy to pass the smog check with the help of a code reader.

-Easy to Use & Carry
SC204 automobile code reader is a built-in speaker and 2. a 4' TFT colorful LCD screen, which offers visual and audible indications for readiness verification. A unique dust-resistant surface makes this auto scanner tool stronger and more durable. Plug and play, no need for any batteries, getting power directly from the OBD2 interface in your vehicle.

-Preferred Choice for Gifts
SC204 OBD2 code reader is a perfect choice for a husband, Daddy, boyfriend, or family who owns a car. Sometimes, they may be troubled by car problems and don't know how to solve them. That is why you need to have SC204 OBD2 code reader. Easy to carry and easy to find the root cause of car problems. Just get the CGSULIT SC204 as a gift and surprise them!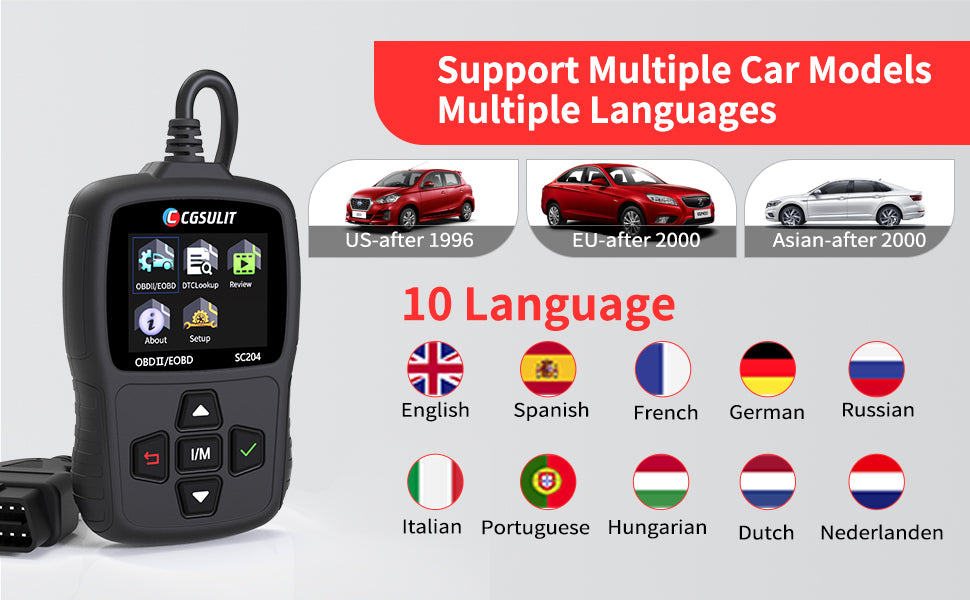 CGSULIT SC204 Supports All 10 OBD Modes.
I/M Readiness 
Test Misfire/Fuel system/Comprehensive component to know if you are ready for a smog check, press the I/M button(rubber) for 3 seconds. Quickly monitor emissions readiness check and drive cycle verification. Let you know the comprehensive status of your car's engine system. Help you pass the Smog Check easily.

On-Board Monitor Test 
Can be utilized to read the results of on-board diagnostic monitoring, and testing for specific components/systems. These give you a set of recommended fixes for problems detected by the scanner. This feature is tricky to score since the advice given is only valuable if the diagnosis is precise enough to pinpoint a specific problem.
EVAP System Test
Let you initiate a leak of test for the vehicle's EVAP system. This is a specific mode 8 command that tell your car to start a test of the 'evaporative emission control system' (mechanics call it 'evap' for short) that prevents fuel from evaporating out of your tank and contributing to smog. Triggering this test won't fix anything by itself, but once you do fix a problem with the fuel system it's nice to be able to manually trigger a test. This way you can verify your fix right away, without waiting a few days (or longer) for your car to run it automatically.
O2 Sensor Test 
Allows retrieval and viewing of O2 sensor monitor test results for the most recently performed test from the vehicle's on-board computer.
View Stream Data and Freeze Frame
To see the live data by graph or chart. The car diagnostic scanner lets you view "real-time" Live Data. This information includes values (volts, rpm, temperature, speed, etc.) and system status information (open loop, closed loop, fuel system status, etc.) generated by the various vehicle sensors, switches and actuators. It supports a detailed text display, and you can view all data stream items or select a certain item of live data with a graph.
Vehicle Info 
Display the information such as VIN(Vehicle Identification Number), CID(Calibration ID) and CVN(Calibration Verification Number). This code reader car diagnostic tool can retrieve vehicle information, such as VIN (Vehicle Identification Number), CID (Calibration ID) and CVN (Calibration verification number), etc., which offers help and convenience to users for repair or parts replacement.
DATA REVIEW
SC204 code readers & scan tools can help you review data, record data, playback data. Storing diagnostic data report for review, built in a lookup library to search for the definitions of DTCs stored in the DTC library and for code breaker information.

UPGRADE LIFETIME
The SC204 automotive code reader is ready to use out of the box, and it can be updated online lifetime free. Please visit www.cgsulit.com to download CGSULIT Update Assist.

Click to know How To Reset The Check Engine Light with the CGSULIT SC301/SC204.
Package List
* CGSULIT SC204
* User Manual
* USB Cable
Product

SC530

SC880

SC870

SC630

SC301

SC204

Picture
Price(USD)

$149.98

$288

$169.98

$139.98

$53.99

$45.99

Full OBD2/EOBD Functions
√
√
√
√
√
√
Works On Brands
One Brand
Multiple Brands
Multiple Brands
Multiple Brands

         Multiple Brands        

        Multiple Brands     

Works On Systems
ALL
ALL
ALL
ABS, SAS, SRS, ENGINE
ENGINE
ENGINE
Active Test/Bidirectional Control
√
√
Special Functions

Turbo
Tcmoil
EPB reset
EVAP test
Odometer
Headlamp
Seat match
TPMS reset
ABS Service
Gear learning
Windows/door
TBA/TPS reset
SAS calibration
Injector Coding
CVT adaptation
AFR Adaptation
Prime fuel pump
Change Tire size
DPF regeneration
Clutch Adaptation
Language change
Transmission Learn
Replace Airbag ECU
Oil service light reset

Battery service reset

Turbo
Tcmoil
EPB reset
EVAP test
Odometer
Headlamp
Seat match
TPMS reset
ABS Service
Gear learning
Windows/door
TBA/TPS reset
SAS calibration
Injector Coding
CVT adaptation
AFR Adaptation
Prime fuel pump
Change Tire size
DPF regeneration
Clutch Adaptation
Language change
Transmission Learn
Replace Airbag ECU
Oil service light reset

Battery service reset

EPB reset
Oil service light reset

ABS
SAS
SRS
Easy to use
Bought this for a friend at work he loves it it's easy to use you don't have to be a rocket scientist to figure it out a kindergartener could figure it out.
Worked as advertised
I used it to make sure my emissions monitors were ready before getting my emissions test. The I/M readiness function was accurate.
Easy to use
Was able to delete SES/CEL on 2016 370z
Ok if you don't have a dongle
This is a good handheld code read that is a little better than a Bluetooth or WiFi reader.
Pequeño y completo
El scanner es muy fácil de usar, prácticamente imposible de no entender, muy cómodo el menu, mas que suficiente para uso en casa.
it shows the codes and lets you clear them, a total must for any mechanic
Perfect gift idea for the man or woman who works on todays cars, shows the CEL codes and lets you chase down the issues fast! I got mine for $40! Its a easy to use, fast and cost effective device.
Worth the money
This code reader has saved me and my friends a lot of money. It just saved me from having to replace the transmission in my Acura MDX. The mechanic said I need a new transmission because it was shifting hard. I got this code reader and it gave me the code P0730. I put it on live data after clearing the code and took it on a test drive. The reader showed a hard shift going from 2nd to 3rd gear and the check engine light came on. The live data reading showed it when shifting. It turned out to be an hour fix by replacing the Dual Linear Shifting Solenoid that cost me $245 instead of the $4000 transmission. Buy one!
Great tool for the non automotive crowd
I bought this for my daughter whose out on her own. Without any assistance from dad she was able to plug it in, read the codes and understand the problem. Her comment to me over the phone was "People actually go to the dealer instead of using something like this?"
Money well spent
Very Easy to Use
I am very happy with my order of the CGSULIT OBD2 Scanner Car Code Reader. I ordered this to use on my son's car. This was great to use as it gave us a heads-up on what to expect before visiting the repair shop. I found this useful as it let us know if the engine check light was due to a very urgent need to the shop or not so we did not risk any time. As it turns out, it was due to a faulty sensor that ultimately does not affect the performance or safety of the car. I find this is a good value for us for this reason and highly recommend this for any vehicle owner to have on hand for such an event. I hope you find our experience helpful as you kindly click the button below.