Description
Youtube Auto Mechanic 

Scotty Kilmer Highly Recommended Brand - CGSULIT



When will you need a OBD2 code reader for vehicles?

When your vehicle check engine light comes on, it can be a nerve-wracking experience. For the average driver, the uncertainty and trepidation that a check engine light creates can feel like getting a bad medical diagnosis that couldn't tell you what wrong is or how to fix it. Instead of worrying, consider using the SC301 diagnostic tool with dozens of dollars to discover if you are dealing with a larger repair or something as small as a loose gas cap👇👇:

Turn the ignition on without starting the car, plug it in, and hit enter. You never need to charge or install an SD card. It will locate the problems of your vehicle in minutes! SC301 works on all vehicles compatible with standard OBD2 protocols.

Why select the CGSULIT SC301 car code reader?
-Specially Designed for Home Diagnostics
SC301 code reader is specifically designed for car owners to identify engine system problems with their vehicles before taking them to a mechanic. Therefore, it is ideal for daily diagnosis at home.
Moreover, it will save you a lot of car diagnosis and maintenance costs, help you easily & quickly repair the fault of the emission system, find the hidden safety hazards of the engine in time, prolong the engine lifetime, and reduce fuel consumption.
-Carry-on Vehicle CEL Doctor
The SC301 mini obd2 scanner can retrieve VIN and read DTCs of your vehicle automatically, read live data streams accurately and show clearly in text and graph format data, and locate bad O2 sensors in time. One key I/M readiness for quickly checking the emission system to ensure vehicles pass the smoke check, turning off CEL (check engine light) or MIL (Malfunction Indicator Lamp), and resetting the monitor.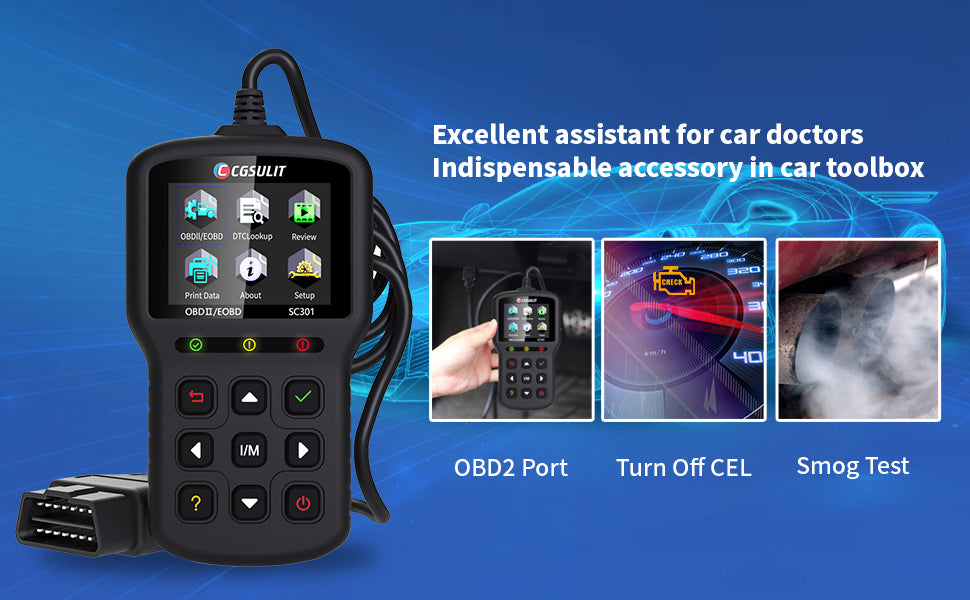 CGSULIT SC301 Supports Full 10 OBD Modes.
✅Supports multiple code requests: Generic, manufacturer-specific, and pending codes.

✅Clears codes, turns off Check Engine Light (CEL), and resets monitors.

✅DTC definition can be automatically displayed after reading, press the "HELP" button with the DTC guide for possible causes of codes showing the small "?" icon.

✅Reads freeze frame data which shows engine conditions such as fuel trim, fuel pressure, engine coolant temp, etc. at the time the MIL (Malfunction Indicator Lamp) was set.

✅Reads, records, graphs & playbacks (data logging) live sensor data.

✅Reads live O2 sensor/on-board monitor test data: Displays test results for Emission-Related power train components and systems that are available and are not available. (Full OBD modes including Mode 6 and Mode 8)

✅Component Test: This allows the code reader to control the operation of vehicle components, tests, or systems.
(Beeping: means your SC301 has diagnosed faults codes in your car. If you do not wish to hear the noise, please enter Settings to set it.)
The CGSULIT SC301 OBD2 scanner universal check engine light tool can quickly & accurately read and erase engine fault codes. It covers all OBD2 protocols and all OBD diagnostic services. Therefore, it will work with virtually any vehicle equipped with OBD2 and view more powertrain diagnostic data than another OBD2 scan tool.
SC301 obd2 scan tool has some enhanced functions which retrieve a wealth of information from the Engine Control Unit (ECU). The ECU is what triggers the Check Engine Light when there is a problem with your car. Parts that might cause your check engine light on include:

#1. Gas Cap #2. Oxygen Sensor #3. Air Fuel Ratio Sensor #4. Mass Air Flow Sensor #5. Ignition Coils #6. Spark Plug Wires #7. Spark Plugs #8. Thermostat #9. EGR Valve #10. Evaporatative Emission Canister Purge Valve (EVAP) #11. Catalytic Converter.

What live data can be read by SC301?

How much data can be read depends on the vehicle, there are over 40 graphing live data (Download the Specification Sheet to get a whole list), to list some:
FUELSYS(fuel system status),
LOAD_PCT(Calculated load value)
ECT(Engine Coolant Temperature)
SHRTFT(Short-term fuel trim bank)
LONGFT(Long term fuel trim bank)
Engine RPM
VSS(Vehicle Speed Sensor)
SPARKADV(Ignition timing advance for cylinder 1)
IAT(Intake air temperature)
MAF(Mass Air)
Green/Yellow/Red LED Notifications:

I/M readiness hotkeys make it easy to use the car computer reader right out of the package, to know if you are ready for a smog check, press the I/M button(rubber) for 3 seconds. Red-Yellow-Green LEDs and built-in speakers indicate the readiness status for a confident emissions test.
● Green - Indicates that engine systems are "OK" and working properly (the number of Monitors equipped with the vehicle which has run and performed their self-diagnostic testing is in the allowed range. MIL is off. ). No stored and pending DTCs exist. The vehicle is ready for an Emissions Test. 
● Yellow - The tool finds a possible problem. It indicates the following two conditions: 
(1) Pending DTCs exist. Please check the I/M Readiness test result screen and use the Read Codes function to view detailed code information. 
(2) Some of the vehicle's emission monitors have not worked properly. If the I/M Readiness screen shows no DTC (including pending DTC), but the Yellow LED is still illuminated, it indicates a "Monitor Has Not Run" status. 
● Red  - Indicates some problems exist with one or more of the vehicle's systems, and the vehicle is not ready for an Emissions Test. As well there are DTCs found. The MIL lamp on the vehicle's instrument panel will light steadily. The problem that is causing the illumination of Red LED should be fixed before an Emissions Test or driving the vehicle 
Data Log:
The SC301 auto code reader records PIDs for later use to help you diagnose intermittent driving performance problems which cannot be determined by any other methods.

DTC Help:
Press the "HELP" button with the DTC guide for possible causes of codes showing the small "?" icon.

VIN Retrieval:
Automatic VIN acquisition and decoding make it much easier to read manufacturer-specific codes and enhanced mode 6 data.

Print Data:
If you are unable to determine the problem, you can print out the diagnostic data and send the data to your mechanic for help.

Click to know How To Reset The Check Engine Light with the CGSULIT SC301/SC204.
Package List:
* CGSULIT SC301
* User Manual
* USB Cable

Product

SC530

SC880

SC870

SC630

SC301

SC204

Picture
Price(USD)

$149.98

$288

$169.98

$139.98

$53.99

$45.99

Full OBD2/EOBD Functions
√
√
√
√
√
√
Works On Brands
One Brand
Multiple Brands
Multiple Brands
Multiple Brands

         Multiple Brands        

        Multiple Brands     

Works On Systems
ALL
ALL
ALL
ABS, SAS, SRS, ENGINE
ENGINE
ENGINE
Active Test/Bidirectional Control
√
√
Special Functions

Turbo
Tcmoil
EPB reset
EVAP test
Odometer
Headlamp
Seat match
TPMS reset
ABS Service
Gear learning
Windows/door
TBA/TPS reset
SAS calibration
Injector Coding
CVT adaptation
AFR Adaptation
Prime fuel pump
Change Tire size
DPF regeneration
Clutch Adaptation
Language change
Transmission Learn
Replace Airbag ECU
Oil service light reset

Battery service reset

Turbo
Tcmoil
EPB reset
EVAP test
Odometer
Headlamp
Seat match
TPMS reset
ABS Service
Gear learning
Windows/door
TBA/TPS reset
SAS calibration
Injector Coding
CVT adaptation
AFR Adaptation
Prime fuel pump
Change Tire size
DPF regeneration
Clutch Adaptation
Language change
Transmission Learn
Replace Airbag ECU
Oil service light reset

Battery service reset

EPB reset
Oil service light reset

ABS
SAS
SRS
Great reader
This is by far the easiest reader for the buck. I also own the BlueDriver witch I love that to. But this thing just gets straight to the point. Soon as it arrived I had updated it. Really easy to do with a computer. Took it out and gave it a try and I was super impressed. If your looking to make sure your car is ready for inspection. It will do it in a matter of seconds. Same with reading check engine lights. A lot faster then my BlueDriver. All though this is a basic obd2 reader. Definitely worth the money. If your looking to clear a check engine light this could be it. I say could because any scanner can clear a light. But if the problem is not fixed it could come back on. I would recommend this to a beginner or even a expert. Can't go wrong with this purchase.
Pretty Cool Tool
OK .. so I am a semi-decent dyi mechanic and have three kids with older model cars that are always needing some light end maintenance. When I have a "check engine" light on, I have always taken my car to AutoZone and they run the diagnostics for free and do a pretty good job helping me figure out what the issue may be. I have decided to step up my game a little and found how cheap these engine code diagnostic tools are, so I decided to buy the CGSULIT SC301 based on the high ratings and figured that I'd spend a little more than some of the cheaper models that run about $30. I have a 2015 VW Passat that was idling rough with a check engine light and this bad boy was easy to use and helped me diagnose the problem. After I fixed the problem, the check engine light remained on- and this machine was able to turn off the check engine light that I would have normally had to have turned off by the dealer. My first experience with this tool is positive so I am happy with the purchase. I can't speak about the cheaper models (maybe they work too) .. but I love the easy self-explanatory color screen and the quality seems pretty good.
same functionality as FOXWELL NT301 with half price
I test it on both 2007 Lexus Es350 and 2010 Nissan 370z and it worked good.
only problem I saw was IM readiness on the car with 4 permanent error code it was green but other scanners show yellow for this matter. and in California if permanent error code exist Smog check will fail.
200 kilometer need to be drive and car need to have more than 15 warm start. and other scanner like Foxwell will check this then show green light until then it will be orange.
this device is exactly as FOXWELL NT301 even the number is look same SC301 but with half price I got it at the time.
Great diagnostic tool with realtime analysis and data capture
Recently had a check engine light appear on a 12yr old vehicle. It was intermittent so I had a local parts store read it for me. It went away and I didn't think anything of it. Weeks passed and it started again - this time it didn't go away. Knowing I would be doing more repair and testing on my own I decided to get a OBDII tester and after a bit of research and review, settled on the CGSULIT SC301. I was not disappointed. After repairing my first issue I was able to clear the error and view the I/M Readiness monitors to see when all systems came back online. Unfortunately a cascade of other issues arose - as often occurs with repairs uncovering peripheral issues - and the sc301 was able to guide me accurately through troubleshooting, identification, and repair. I'm certain that with this scanner I was able to easily save $700+ in repair charges by isolating the failed components and repairing/replacing them myself. I would definitely recommend this product!
Facil de usar y sencillo
Es bueno tener este tipo de herramienta en casa por cualquier fallo en el vehículo
I like that this comes in a plastic package that can be easily opened and closed so that I have a way to store it in my car. I initially plugged this into my USB charger in my car and then plugged it into the connector in my car and it wouldn't work. Then I found out in the manual that you shouldn't connect it to both a power source and your car at the same time. The OBD connector in my car gives it enough power to run on it's own without another power source. That should be in big bold letters on the front page of the instructions, especially for someone like me who has never used one of these. Once I figured this out, it connected to my car and gave me a reading. My engine light wasn't on at the time so the reading was normal. I'll have to update my review later when I have an engine light warning to use the monitor to read.
The screen isn't the clearest to read, but it's fine and I like the clear notifications of which things are good and bad. You need to have a list of all the different codes to know what you are looking at, but mostly you just need to know whichever one is showing up as needing attention. It's good to have something like this so that you don't have to just rely on someone else to tell you the truth about your car.
I tested this on a 2014 Prius and it works fine for me. I like having this if my engine light ever comes on during a road trip when I'm not able to get my car to a mechanic right away. At least I'll know what the issue is. Once you use this once, it's pretty easy to use.
Impressive scanner
I'll admit up front I'm not completely qualified to evaluate a tool like this. I got it to diagnose an error code on my wife's car, and I do know how to do that because of past experience with smaller, less-complex scanners. This one does so much more and is far more capable than those others I've used.
This scanner has a great, sharp multi-color display, and when you hook it up to your OBD2 port it displays a simplified menu to take you to the test or process you want to perform. It can read and record live data, view freeze frame data, read/erase DTCs (engine fault codes), turn off the CEL (check engine light), perform O2 monitoring test, on-board monitor test etc. And if you have a check engine light it will read the error codes and take you to a library of over 3000 codes to tell you what they mean. It will also let you turn off the check engine light when repairs are made.
This is a powerful tool, suitable for professional mechanics and knowledgeable home wrenchers. And at this price it is a bargain. The instructions can be a little sketchy for the home user, but mechanics won't be confused. If I had one suggestion, it would be for the scanner to be clad in rubber to stand up to the drops and hard use it will see in the professional environment.
This scanner gets 5 stars from me.
He had a SnapOn scanner for years and loved it. This is on par with the scanner ...
My dad was a mechanic for over 20 years and still works on them for time to time. He had a SnapOn scanner for years and loved it. This is on par with the scanner he had for over 10 years. We got this SC301 to replace that SnapOn scanner, it does everything the SnapOn one did and everything that is in the details in the description. It is easy to update and comes with a cord to update it with. It is very easy to use as well. We highly recommend this scanner.
Highly recommended product
Easy to use, scan ecm and transmission, review live data read and erase error code.